We Want You To Love Your WCG Gloves!
So, if you need to exchange for a different size or color or even a different style, we make it easy.
Return Policy
Returns and Exchanges
You may return or exchange unused product sold and shipped to you by West County Gardener within 30 days of delivery. Product must not show signs of wear and tear and must be in its original packaging. Proof of purchase, such as a copy of the sales receipt or packing slip is required. You are responsible for shipping the product to West County Gardener.
If you are exchanging one product for a different product you will be billed or credited the difference.
Shipping Errors and Manufacturers Defects
In the event you received the wrong product or the product is defective, we will pay for the shipping. Product must be returned within 30 days, in its original packaging and with proof of purchase, such as a copy of the sales receipt or packing slip.
Follow These Simple Steps:
Contact our customer service center (800-475-0567) for Return Authorization and an RA#.
Pack the items and mark the outside of the package with the RA#.
Questions? Please contact us at:
800-475-0567
info@westcountygardener.com
---
Shipping Policy
Shipping Locations
West County offers our customers the ability of ordering right from the comfort of their homes. We ship to all 50 States, but at this time we are unable to ship to locations outside of the U.S. or to PO Boxes.
Free Shipping on Qualifying Orders Over $50
West County Gardener offers free ground shipping on orders over $50.00 to the 48 continental United States. Free shipping is offered when the total cart exceeds $50. Total dollar amount is calculated after any promotional discounts are offered and does not include taxes where applicable.
Ground or Air, You Choose.
West County Gardener uses UPS for its shipping solutions. We offer ground and air shipment options for you to use, which are displayed along with their cost during checkout.
Please choose from among these options as you consider your shipping needs. UPS does not deliver to P.O. Boxes. For delivery to APO/FPO Mail addresses please call us at 800-475-0567 for additional shipping options. Shipping options are provided to all 50 states.
Click here to learn more about UPS sustainability practices. Much of UPS's environmental efforts are focused on improving efficiency, specifically on reducing miles flown and driven and using the most fuel efficient mode of transportation.
All orders take 24 hours to process. You can expect to receive your order within 7-10 days with regular ground shipping.
Local conditions and emergencies take precedence over these standard delivery windows. Use your tracking number to determine the exact time of arrival.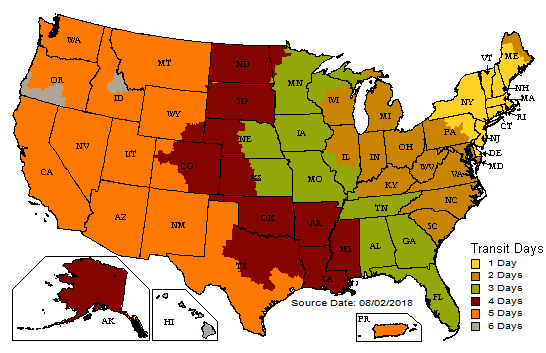 Subject to the Tariff/Terms and Conditions of Service, UPS guarantees on-schedule delivery of packages, shipped via UPS's services, that are listed as guaranteed, or will refund your transportation charges. Guaranteed Service is not available in all areas and does not apply to shipments containing a package with an Additional Handling or Large Package surcharge. Scheduled business days and delivery schedules are revised occasionally due to changes in distribution and volume, especially during holiday periods. Service to some remote areas also may require additional delivery days. For current delivery schedules, service availability and information, and a description of the UPS service Guarantee, see the UPS Rate and Service Guide. The most up-to-date transit time details will be available at ups.com/ctc at the time of shipping. Certain commodities and high value shipments may require additional transit time for customs clearance.
How We Charge
Rates are based on shipping to all 50 states in the U.S.A. Your shipping charge will be stated clearly on your check out window in your shopping cart.
Tracking
You will be emailed a confirmation of your order. Call 800-475-0567 for tracking information. You can also consult http://www.ups.com for further tracking information.